Estimated Time Remaining:
2:1
HD Download $15.39
+ Stream in HD for Life
On Sale! -
You Save 30%
Stream for Life $6.99
Stream only
On Sale! -
You Save 30%
HD Rental $4.19
Stream in HD for 2 Days
On Sale! -
You Save 30%
Used DVD $23.35
Used Item - No Box or Art included.
Blackmailed Cheating Teens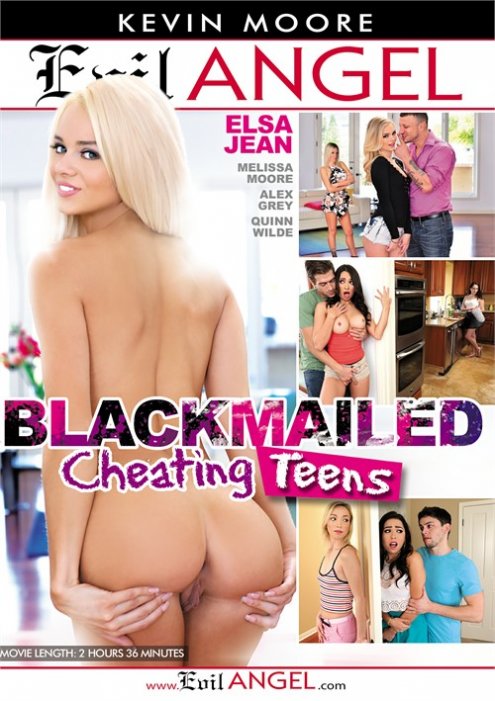 For oversexed young girls, one indiscretion can mean humiliating consequences! The unfaithful sluts in Kevin Moore's Blackmailed Cheating Teens find themselves extorted for sex by unscrupulous creeps threatening to reveal their dark secrets. Tiny blonde Elsa Jean has cheated on her boyfriend, so his "best buddy" takes advantage - in the presence of the unsuspecting cuckold! Right next to her sl--ping man, he plows Elsa's sweet pussy and splatters her pretty face with sperm. Gorgeous Melissa Moore made the one-time mistake of sl--ping with her best friend's boyfriend. So he won't expose the truth, she must service his giant dick ... in the girlfriend's bed! Having surrendered her virtue to her stepfather, stunning Alex Grey hides her shame from her oblivious mom, but continues the affair. The evil stepdad pounds her tight pussy, even as they chat with Mom! Quinn Wilde doesn't want her family to know about her online sex video. Her sister's guy blackmails the chesty slut; he gets his cock sucked (as he talks to his nave girlfriend) and plows Quinn's shaved quim.
More Like Blackmailed Cheating Teens